How To Remove Crayon From Your Custom Furniture
Every parent wants nice furniture for their homes. However, we all know that feeling of angst when you walk into the room and see your child coloring on their bed or dresser.
Step 1: Olive oil and a lint free cotton cloth to the rescue.
If you do not know what kind of finish is on your furniture, don't worry. Olive oil works the best for most finishes.

Step 2: Warm the oil.
If using olive oil, you will want to warm it slightly in the microwave before use; however, don't make the olive oil too hot to handle.
Step 3. Clean the canvas.
Put a little bit of the olive oil on your cotton rag and begin to wipe with the grain. If you need something more abrasive use a piece of brown paper (paper grocery bag). Brown paper has very subtle abrasive qualities and works well when polishing furniture.
On more grainy woods, like oak, you may need to work against the grain or in a circular motion, but only do so once wiping with the grain has become ineffective. Working against the grain increase the probability of leaving a visible mark.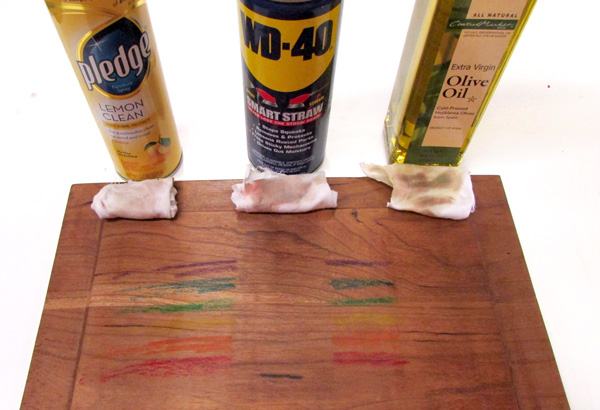 Step 4. Alternatives
WD-40™ Works well, however you may see a slight contrast where the WD-40™ comes in contact with the wood, so use very gentle pressure when starting to wipe. You can fix the contrast with paste wax once the crayon is removed.
Pledge™ may also remove the crayon; however, you will need a bit more elbow grease, and it can remove the wax finish of the furniture. Again, apply some paste wax once the crayon is removed.
Things to use as an absolute last resort: ammonia-based products, mineral spirits, sandpaper, rubbing alcohol, turpentine or the ever-favorite Magic Eraser™. All may soften and dull the finish.
Step 5. Protect your furniture.
An ounce of prevention is always the best. About every year apply some paste wax to all potential furniture surfaces that may become future art palettes. While this is not a deterrent for your little Picasso, it will make it easier to remove any future crayon marks.
Questions, comments, or interest in future blog posts? Ask us on Twitter or Facebook.